Periana Holidays
Periana Holiday Deals
Sorry, we have no offers to display for this destination.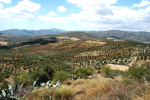 Periana holidays take you to a charming village north-east of Malaga on the Costa del Sol. Lying amid stunning scenery, it is twenty miles from the coast. Holidays to Periana can be taken at any time of year as the summers are long and hot and the winters are mild. April to October are the busiest months with temperatures rising to the low thirties. Holidays in Periana appeal to couples of all ages. The resort offers a perfect retreat for those wishing to recharge their batteries. Those who enjoy walking will find many beautiful woodland trails. Lake Vinuela offers a selection of water sports for the more energetic visitor.
Cheap Holidays To Periana
We have a number of cheap Periana holidays that are considered great value as our commitment to quality and service are never in doubt. With good accommodation, superb restaurants and shops supplying all your needs, our low cost Periana holidays are sure to please. For those who wish to combine their inland base with with days by the sea, and also to more fully explore the surrounding countryside, car hire is suggested.Since our bargain Periana holidays sell out quickly, book early in order to avoid disappointment.
For further information and to view our last minute Periana holiday deals, please use the search facility.