Ardales Holidays
Ardales Holiday Deals
Sorry, we have no offers to display for this destination.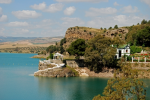 Ardales holidays take you to a stunning Andalucian village, forty miles from Malaga. It is a wonderfully peaceful spot with a traditional atmosphere, which lies in an area of great scenic beauty, encircled by hills and fertile valleys. It is in fact surrounded by a protected nature reserve. Having long hot summers and short mild winters, holidays to Ardales can be taken at any time of year. The busiest time is between April to October with temperatures rising to the low thirties at the height of the season. Holidays in Ardales appeal mainly to couples as families tend to make their base closer to the sea, and the relaxed evenings tend to deter young singles looking for a lively nightlife.
Cheap Holidays To Ardales
We have a number of cheap Ardales holidays that offer great value for money as our commitment to quality and service never falters. With walking and cycling trails, and lakes for fishing and water sports, our low cost Ardales holidays can be as relaxed or as energetic as you wish. Those with an interest in the past will enjoy the many ancient ruins as well as the famous caves with paintings that are twenty thousand years old. A sight not to be missed. Ardales is a convenient base from which to visit the towns of Granada, Seville and Cordoba, or to visit the coastal resorts. Car hire is recommended. With first class accommodation and restaurants catering for all tastes, our Ardales holiday offers are sure to please. Shopping adequately covers all your holiday needs and evenings are as relaxed as the days, reflecting the resort's popularity with couples.
For further details and to discover our best Ardales holiday deals, please use the search facility.