Motril Holidays
Motril Holiday Deals
Sorry, we have no offers to display for this destination.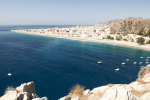 Motril holidays take you to the sunniest spot in Spain, the Costa Tropical in Andalusia. Located between Malaga and Almeria, Motril is a fairly large town with a busy port and marina. Holidays to Motril can be taken at any time of year as the summers are hot and the winters mild. Many older couples escape the worst of the British weather by visiting in the winter. Holidays in Motril have broad appeal. There are beaches with water sports, tennis courts and golf courses, good shops and restaurants. Bars, discos and clubs provide a lively nightlife.
Cheap Holidays To Montril
We have a number of cheap Motril holidays that are considered good value as our commitment to quality and service is never compromised. With accommodation offering all modern amenities, restaurants serving diverse cuisine catering for even the most conservative of tastes, our low cost Motril holidays are sure to please. If you wish to explore further afield, there are excursions from the port to Morocco, where you can visit the bazaars and markets. If you are seeking guaranteed sunshine with plenty activities to fill your day, our Motril holiday deals may be just the ticket.
For further details and to view our last minute Motril holiday offers, please use the search facility.