Cadiz Holidays
Cadiz Holiday Deals
Sorry, we have no offers to display for this destination.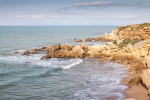 Cadiz holidays take you to an historic city on a peninsula to the west of Spain's aptly named Costa del Sol. It is a beautiful city with stunning architecture that reflects its long history. Holidays to Cadiz can be taken at any time of year as the summers are long and hot and the winters are mild. The busiest months are from April to October with temperatures rising to the low thirties at the height of the season. Holidays in Cadiz have wide popularity as there is so much to see and do.
Cheap Holidays To Cadiz
With swathes of sandy beaches, it comes as no surprise that our cheap Cadiz holidays are snapped up by families, particularly those with young children. With good accommodation and restaurants catering for all tastes, our low cost Cadiz holidays are sure to satisfy. Wandering through the narrow streets of the old town it is easy to imagine you have stepped back in time. The cathedral and some of the churches are superb examples of gothic architecture; the shops delight visitors with their range of goods; the restaurants cater for every palate. All in all, our bargain Cadiz holidays have elements to please everyone.
For further information and to find our best Cadiz holiday offers, please use the search facility.